Car Accident Lawyers in Las Vegas
Shook & Stone - Las Vegas Traffic Collision Lawyers
Voted Best Car Accident Lawyers in Las Vegas
Car Accident Attorneys in Las Vegas
Shook & Stone are dedicated and aggressive personal injury lawyers who fight for the right of clients whom have been injured in a car accident, fender bender, or car crash.
We are experienced car cash lawyers who have recovered over 750 million in damages and have been fighting for accident victims rights in Nevada since 1997.
There are many reasons why one should contact a car accident attorney after receiving injuries from an automobile collision. When involved in an automobile accident, you can be left with not just physical pain but also emotional trauma that will take time to repair.
The fact is that many of these accidents could have been prevented if the passengers had taken heed to Nevada's laws and obeyed them. If you need a Nevada injury attorney, we are here to help you get the compensation that your injuries deserve.
What to Do if You Are Involved in an Auto Accident and Injured in Las Vegas
If you are involved in an auto accident and injured, report it immediately to the police department that is located closest to the accident. You can remain anonymous if you wish, however it is important to have this accident on record because it will help the attorney gather evidence for your case.
When reporting the accident, be sure to obtain all of the information from the other party involved as well as any witnesses that could aid in building a solid case. If you need a Nevada injury attorney, we can help you identify the witnesses and get all of their contact information.
The first thing you need to do is receive medical care for your injuries. It will be important that you document not only your pain but how it has affected your life as well as any lost time at work or school. Make sure that you are honest in these recordings; your attorney will be able to determine if you are telling the truth based on how the accident has affected your life.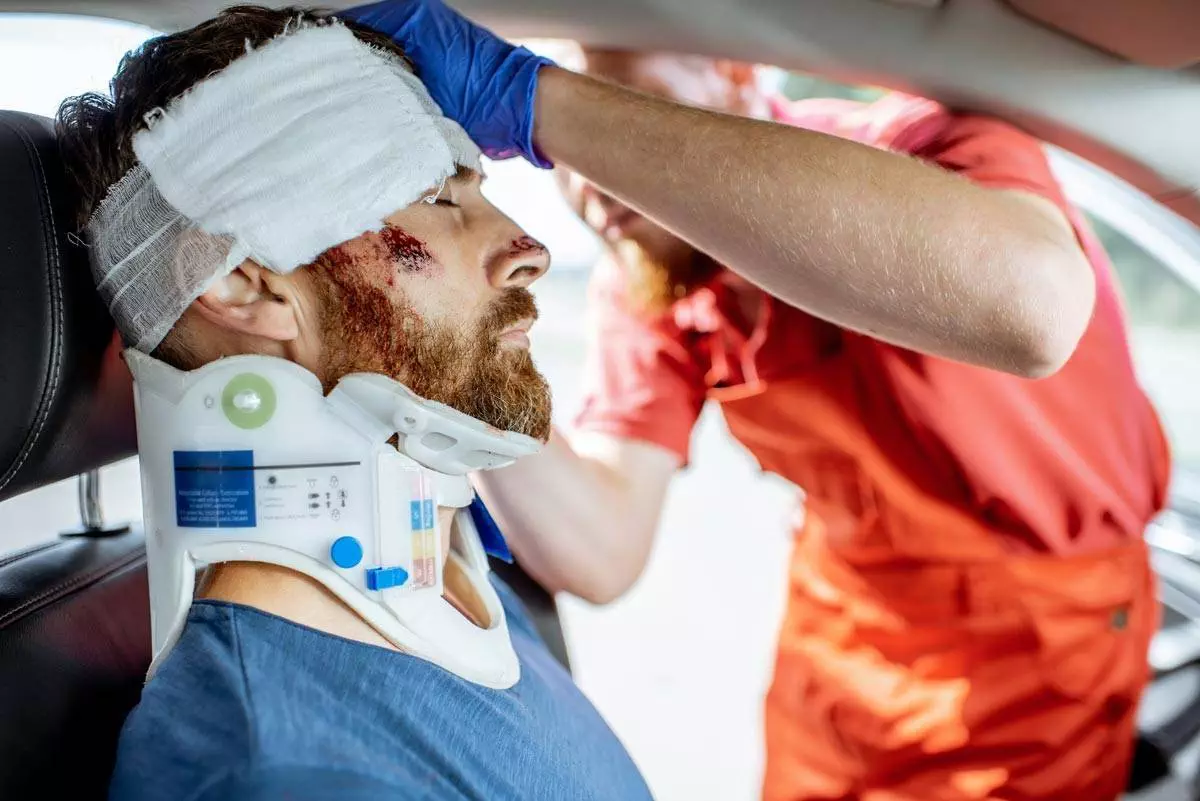 Common Types of Injuries Sustained in A Car Accident
Many people who are involved in car accidents and come out without any visible injuries often find that their symptoms do not resolve themselves over time. These are the individuals who normally seek medical care and it is important to seek out treatment for these symptoms right away. Your Nevada injury attorney can help you receive compensation for your injuries.
The Common Causes of Las Vegas Car Accidents
Other common causes for car crashes:
What Should You Do if You are in a Car Accident?
Remain inside your vehicle until help arrives. Do not try to open your car door or risk moving to minimize any secondary injuries. If there is smoke in the car, attempt to roll down the windows and exit quickly.
Do not move your neck or head following a collision. Moving the neck quickly after an accident can result in whiplash which otherwise might have been avoided. This may cause injuries that will last you for years to come and make day-to-day life difficult.
If possible, check to see if anyone else was injured because of the accident and notify the police. Let others in the area know you need help to avoid further injuries.
If someone contacts you after a car accident, do not speak with them until you have consulted a personal injury attorney in Nevada first. Many people seek financial rewards following an auto accident just because they were involved. Only contact your attorney or contact the insurance company directly to discuss the accident and what damage has been done.
If you are injured in an automobile crash, do not admit fault. This can be used against you later on when seeking compensation for your injuries. Your Nevada injury attorney should prove liability in order for you to receive assistance with medical bills and other expenses that may arise from the accident.
It is important to avoid the use of illegal drugs or alcohol following an accident as this can have a negative impact on your case later on. If you are injured, seek medical attention and do not delay treatment. You can be charged with criminal charges if it is determined that you were under the influence while driving and it results in an accident.
It is important to stay in contact with your Nevada injury attorney and follow their instructions as they will know what the best course of action for you is. They can get medical tests done on your behalf, work with insurance companies, get statements from witnesses, do background checks on the defendant's insurance company and represent you in court if necessary.
It is important to remember that you may be entitled to compensation for your injuries even if the other driver wasn't at fault in the accident. You can still get medical treatment, lost wages from time off of work and many more benefits by working with a Nevada injury attorney as soon as possible following an accident. Your lawyer will know what type of compensation you may be able to get in your case.
It is important to be very careful on who you talk to and do not use social media. The information that you provide on social media can be used in court to show evidence against you. If you are injured in an accident, it is best to seek medical attention right away and do not discuss the incident on social media.
You may experience what is called post-traumatic stress syndrome (PTSD) following your auto accident. This may include symptoms such as nightmares, flashbacks and feeling depressed. The longer you wait to seek help for these symptoms, the worse they will get. PTSD can last for months or years after an accident so it is important to get assistance right away if you feel that this is affecting your day-to-day life in a negative way.
Depending on the injuries sustained during a car accident, it may be time consume for individuals to gather all of their medical bills, receipts from medications and any other documents that will be needed.
Most individuals are surprised how fast medical bills add up after being in a car or truck accident. Therefore, it is best to hire a Nevada injury attorney who can assist you from the very beginning.
Undisputed Facts: Even if the other party is not guilty of wrongdoing in an accident, you may still be entitled to seek compensation for your medical bills and pain and suffering that resulted from it.
It is more likely that you will be able to get compensation without having to sue the other person if you are seeking medical expenses, lost wages or money for pain and suffering. Therefore, it is best to seek legal counsel as soon as possible after an accident occurs so that they will have all of the information needed to know what type of compensation you may be eligible to receive.
The majority of auto insurance policies in Nevada are covered by the Nevada Insurance Guaranty Association. The maximum amount that will be paid out per vehicle/per accident is $50,000. Therefore, it is important to receive any settlement or judgment from a defendant's policy as soon as possible.
A Las Vegas Lawyer Will Need the Following Information on Your Car Accident
You may be able to collect an insurance settlement, as well as a cash payment if someone else is at fault for your accident and they have coverage that will pay you. This can include medical payments, uninsured motorist and underinsured coverage.
Nevada Car Accidents and the Statute of Limitations
Nevada has a statute of limitations when it comes to filing an auto accident injury lawsuit. You must file a lawsuit within two years of the date you were injured or within two years of the last medical care that you have received. This means that if after one year, you still need medical care than you should also count one year.
When Should You Speak With a Las Vegas Accident Attorney?
In the end, you should contact a personal injury attorney to discuss what happened and how you were injured in your car crash or fender bender. Sometimes people speak with us and think they don't have a case. This can be due to a variety of issues but then we see that do have a case for filing a personal injury lawsuit and making a claim with the insurance company.
Use the form to get a free consultation or contact Shook & Stone at (702) 570-0000 with any questions you have involving car accident cases in Nevada. We are here help and support you during this difficult time when you need it the most.
Visit Our Office in Downtown Las Vegas
Visit Our Office in Southwest Las Vegas
Shook & Stone
9455 W Russell Rd Suite 100
Las Vegas, NV 89148
(702) 385-2220